Description
Highlight
6 pieces of cartoon characters inside the gift box
6 patterns of characters: Doraemon, Hello Kitty, Naruto, One Piece, Pikachu, Chibi Maruko Chan
Gift that is very suitable for cartoon character lovers.
Beautiful and creative gift box
Style: Japanese
Design: Cartoon Characters
Material: PVC
Patterns: 1) Doraemon (6pcs)
2) Hello Kitty (6pcs)
3) Naruto (6pcs)
4) One Piece (6pcs)
5) Pikachu (6pcs)
6) Chibi Maruko Chan (6pcs)
Manufacturer: China
Inside the gift box: 6 pieces of cartoon characters, decorative lights, raffia shredded paper
Size of the gift box: big gift box (24cm x 6cm x 17cm)/ small gift box (17cm x 8cm x14cm)
Big Gift Box = Naruto, One Piece
Small Gift Box = Doraemon, Hello Kitty, Pikachu, Chibi Maruko Chan

Size of cartoon character:
* Doraemon: 5-6cm
* Hello Kitty: 4-5cm
* Naruto: 7-8cm
* One Piece: 7-8cm
* Pikachu: 3-4cm
* Chibi Maruko Chan: 5-6cm
Suitable: present for kids, girl friend/ boy friend, friends, etc
It is a very beautiful and creative gift box.
Gift that is very suitable for cartoon character lovers.
100% Brand new and good quality
Disclaimer:
About size: Size chart for the reference only, the measurement error range of 1-2cm, the size is (cm).
About color: Slight color difference may exist under certain circumstances such as screen display resolution variation, different lighting environment etc, which is not expected to be seen as a quality issue.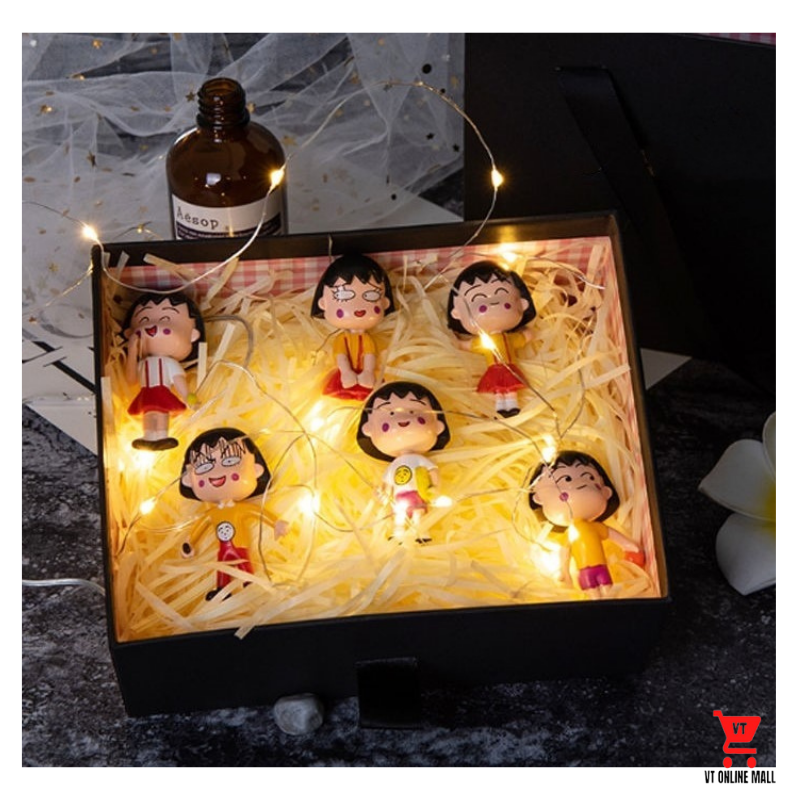 What's in the box
- 6pcs cartoon characters