Description
Highlight
The pink ceramic has a cute design of a rabbit wanted to pull out radish / carrot
The pink gift box set is coming with a pink ceramic mug with cute golden crown lid and golden spoon.
Suitable for most occasions, which can be used for wedding, christmas, birthday gift and other holiday party gift.
The gift box set is beautifully packaged and surprise her with a unique and fun happy day that she will nevery forget.
It is perfect for sending as a gift for anyone. (couple, friends, moms, daughthers, sisters, etc)
Style: Korean
Design: Rabbit and Radish / Carrot
Material: Ceramic
Capacity: 400ml
Size of the mug: 8.5cm x 9cm (H)
Size of the spoon: 14cm
Gift Box Size: 17.5cm x 20cm
Gift Box Set Weight: 0.6kg
Shape Of The Mug: Diamond
Colour Of The Mug & Gift Box: Pink
Patterns: 1) Set (A) Left Standing Rabbit
2) Set (B) Middle Pulling Rabbit
3) Set (C) Middle Lay Down Rabbit
4) Set (D) Right Sitting Rabbit
Manufacturer: China
Workmanship: burned under high temperature
► The pink ceramic has a cute design of a rabbit wanted to pull out radish / carrot
► The pink gift box set is coming with a pink ceramic mug with cute golden crown lid and golden spoon.
► Suitable for most occasions, which can be used for wedding, Christmas, birthday gift and other holiday party gift.
► The gift box set is beautifully packaged and surprise her with a unique and fun happy day that she will never forget.
► It is perfect for sending as a gift for anyone. (couple, friends, moms, daughters, sisters, etc)
Disclaimer:
About size: Size chart for the reference only, the measurement error range of 1-2cm, the size is (cm).
About color: Slight color difference may exist under certain circumstances such as screen display resolution variation, different lighting environment etc, which is not expected to be seen as a quality issue.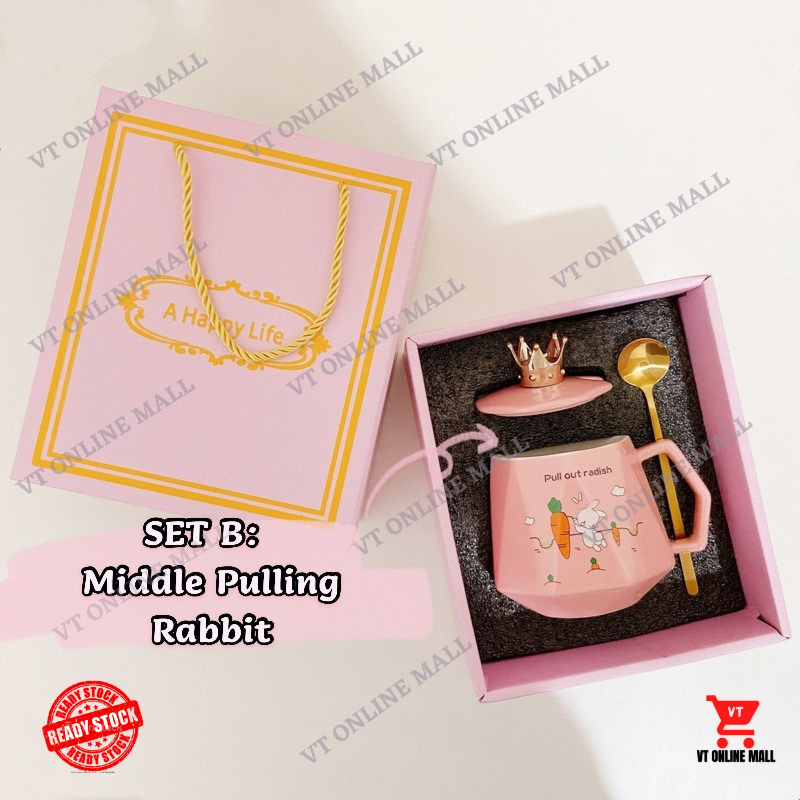 What's in the box
1 x Diamond Shape Ceramic Mug
1 x Spoon
1 x Lid