Description
Highlight
Square shape gift box is attached with red ribbon and placing Doraemon embroidery kids bath towel inside are totally perfect match, cute and beautiful.
Dedicated to Doraemon fans and lovers.
The Doraemon bath towel is incredibly soft, comfortable and gentle to human skin.
Definitely a great gift for sending as a birthday gift, newborn gift, wedding gift, etc.
There are 3 stunning and beautiful colors of Doraemon bath towel which are light green, light yellow, light pink.
It has good water absorption function.
Doraemon kids bath towels has a light weight that are easy and comfortable to use.
Doraemon embroidery bath towel is suitable for babies, kids and newborn used
Style: Japanese
Design: Doraemon Embroidery Kids Bath Towel
Gift Box Colour: White
Gift Box Shape: Square
Colour of Doraemon Embroidery Kids Bath Towel: Light Green / Light Yellow / Light Pink
Size of Doraemon Kids Bath Towel: 50cm (length) x 100cm (width) , 20 inch x 40 inch
Material Of Doraemon Kids Bath Towel: 100% Cotton
Weight Of Doraemon Kids Bath Towel: 130gram approx
Gift Box Weight: 0.19kg
Gift Box Size: 15.5cm x 5cm x 15.5cm
Inside The Gift Box: 1 piece Doraemon Embroidery Kids Bath Towel
Manufacturer: Malaysia
► Square shape gift box is attached with red ribbon and placing Doraemon embroidery kids bath towel inside are totally perfect match, cute and beautiful.
► Dedicated to Doraemon fans and lovers.
► The Doraemon bath towel is incredibly soft, comfortable and gentle to human skin.
► Definitely a great gift for sending as a birthday gift, newborn gift, wedding gift, etc.
► There are 3 stunning and beautiful colors of Doraemon bath towel which are light green, light yellow, light pink.
► It has good water absorption function.
► Doraemon kids bath towels has a light weight too which are easy and comfortable to use.
► Doraemon embroidery bath towel is suitable for babies, kids and newborn used.
Disclaimer:
About size: Size chart for the reference only, the measurement error range of 1-2cm, the size is (cm).
About color: Slight color difference may exist under certain circumstances such as screen display resolution variation, different lighting environment etc, which is not expected to be seen as a quality issue.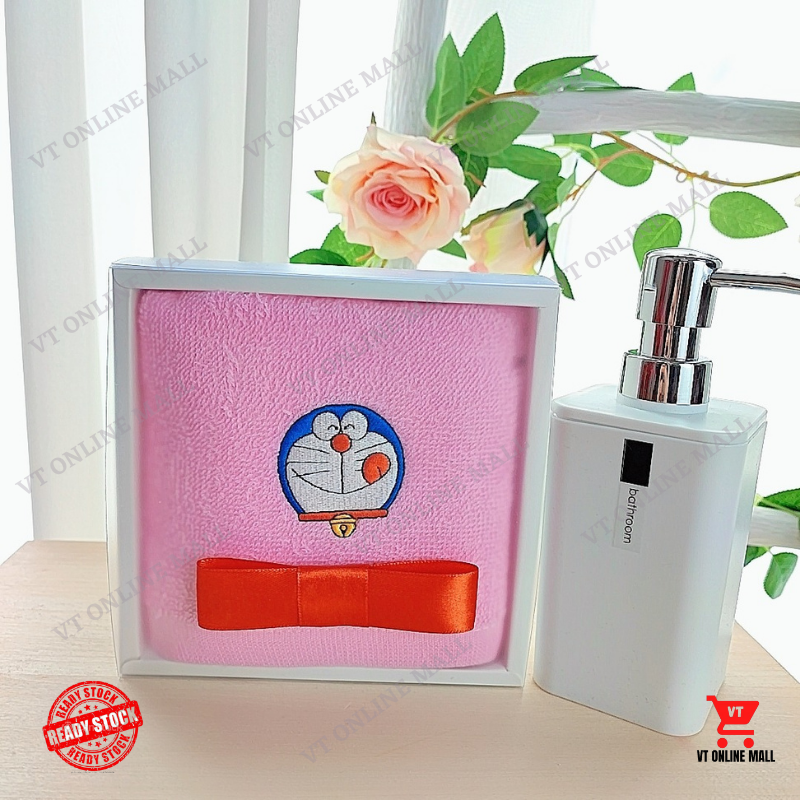 What's in the box
1 x Doraemon Embroidery Kids Bath Towel