Description
Highlight
Super cute snoopy design on the vacuum insulated mug.
There are total of 7 cute patterns of snoopy to let you to pick.
Good for storage of hot beverage
Made of SUS 304 Stainless Steel
Super cute snoopy design on the vacuum insulated mug
Non slippery at the bottom of the cup
Style: Casual
Design: Snoopy
Material: SUS 304 Stainless Steel, PP Food Grade Lid
Capacity: 420 ml
Patterns:
1) Inspector Black Snoopy
2) Inspector White Snoopy
3) Inspector Pink Snoopy
4) Skiing Black Snoopy
5) Skiing White Snoppy
6) Skiing Pink Snoopy
7) Skiing Blue Snoopy
Size: 13cm x 11.5cm
Weight: 0.38kg
Manufacturer: China
Suitable Temperature: 0ºC- 100ºC
Super cute snoopy design on the vacuum insulated mug.
- There are total of 7 cute snoopy patterns for you to pick.
- Good for storage of hot beverage such as coffee and others.
- Made of good quality stainless steel material.
- Non slippery at the bottom of the cup.
- Easy to wash.
- The cover of the mug is easy to take off.
Caution:
- Storage of hot water temperature of 40ºC above need to handle carefully in order to avoid get burn.
- Do not microwave and put inside dishwasher.
- Do not put dry ice or carbonated beverage into the Snoopy insulated mug that can cause high pressure inside the insulated mug. The lid (stopper) may eject forcefully due to the high pressure.
- Do not store milk or fruit juice inside the insulated mug for long duration because it may spoil the insulated mug.
- Beverage that store inside the insulated mug is suggested to finish in 1 day
Disclaimer:
About size: Size chart for the reference only, the measurement error range of 1-2cm, the size is (cm).
About color: Slight color difference may exist under certain circumstances such as screen display resolution variation, diffrent lighting environment etc, which is not expected to be seen as a quality.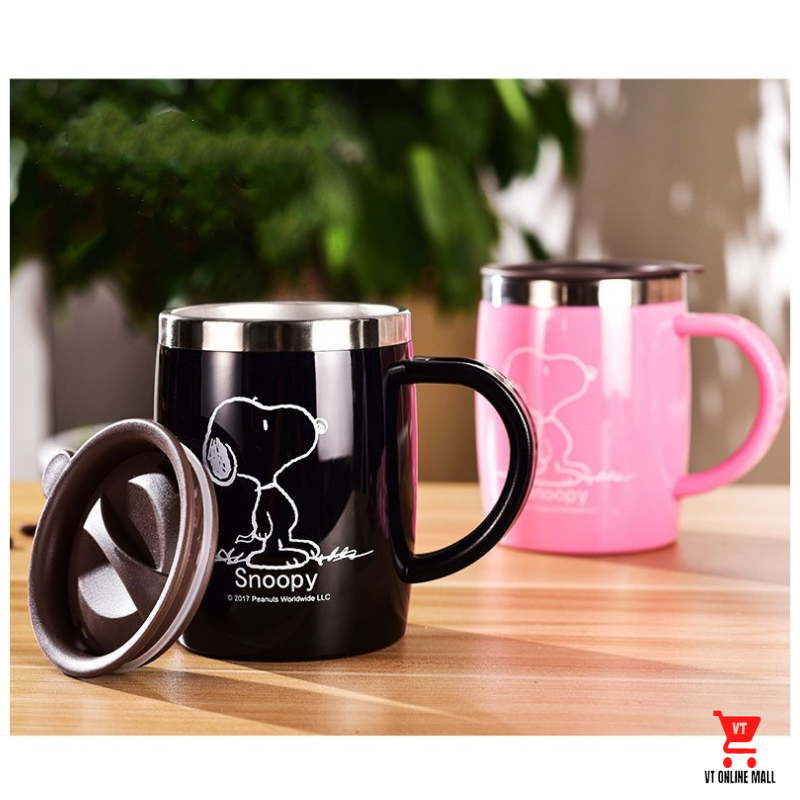 What's in the box
1 x Snoopy Vacuum Insulated Mug